Reasons To Open A Rewards Extra Checking Account From Renasant Bank
August 02, 2022
At Renasant, we want you to bank in style and even get rewarded when you do so. Renasant Rewards Extra has a number of extra benefits, so we've put together a couple of reasons why you should open one today. From access to insurance to refunds, this is truly the checking account that checks all the boxes.

ACCESS RENASANT ANYWHERE, ANYTIME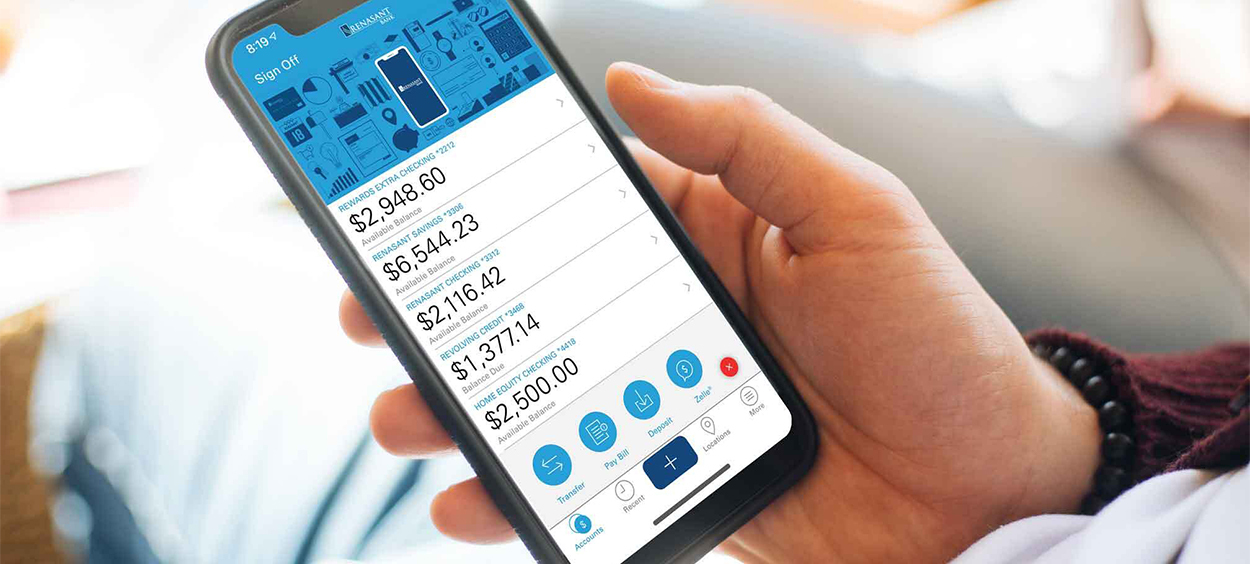 From sea to shining sea, you have access to your Rewards Extra account 24 / 7 in the Renasant Mobile App. At home, on-the-go, and both day and night, check your account and make transfers when you need to. Don't have the Renasant Mobile App? Download it today on your iOS or Android device!
SHOP LOCAL, SAVE LOCAL

With the all-in-one Renasant Rewards Extra app, you will receive discounts from local and national retailers, saving you money on shopping, dining, travel, fun and more. With more than 450,000 coupons and special deals from shops across the country, who wouldn't want the Renasant Rewards Extra app1? Download the Rewards Extra app from the App Store or Google Play store today.
CELLPHONE INSURANCE

Accidents happen, and with Rewards Extra, you can receive up to $800 per claim ($1,600 per year) of insurance if your cell phone is broken or stolen when you pay your phone bill from your Renasant Rewards Extra checking account. Believe us, this will help curb the heartache next time you accidentally drop your phone and crack your screen.1,2
IDENTITY PROTECTION

Renasant takes protecting all forms of personal information seriously. With fraudulent activity threats happening daily, why not have an account that adds extra layers of protection, and offers identity restoration services plus $2,500 in personal identity theft benefits?1,2 Check out these additional fraud and security tips from Renasant.
ROADSIDE ASSISTANCE

Hands up for everyone who has tried to change a tire on their own and failed? Next time you don't quite get there, remember that your Rewards Extra account from Renasant has a level of roadside assistance to help with that.1
TRAVEL ACCIDENTAL DEATH COVERAGE

With Rewards Extra, you'll receive up to $10,000 in Travel Accidental Death Coverage. Again, you just never know.1,2
HEALTH SAVINGS CARD

Get in and out of the pharmacy quicker with a health savings card that helps save money on prescriptions, eye care, and hearing services.1,2
ATM FEE REFUNDS

Everyone needs a little cash each month. When you end up at an ATM that isn't a Renasant ATM, it's fine – we'll reimburse those fees up to $20 each month when you meet the eligibility requirements.3
ACCESS TO RENASANT'S MOBILE WALLET

If traditional payment methods aren't your thing, then we have the solution for you – Renasant Mobile Wallet. Renasant offers several person-to-person payment options like Click to Pay by Mastercard, Google Pay™, and Zelle® to help you split the bill or pay your fantasy football dues quickly and easily.
ONLINE BANKING WITH BILL PAY

Just in case you still write checks, Renasant offers bill pay through our advanced online banking system to take the clutter and paperwork away.
JOIN RENASANT BANK
If you are ready to become a part of Renasant Nation, contact our banking experts today to get started or click here to open an account online. Check in for new content and other banking tips from our specialists on how you can save big with Renasant Rewards extra.
---
1. Benefits are provided by third party providers arranged and compensated by Renasant Bank. Benefits are subject to additional terms and conditions.
2. Insurance products are: NOT A DEPOSIT. NOT FDIC-INSURED. NOT INSURED BY ANY FEDERAL GOVERNMENT AGENCY. NOT GUARANTEED BY THE BANK.

3. Eligibility Requirements: 1) Have at least 10 debit card transactions (excluding ATM transactions) post and clear per Qualification Cycle*, 2) Have at least one direct deposit or ACH automatic payment post and clear per Qualification Cycle, and 3) Receive your monthly statement electronically.
*Qualification Cycle: This term means a period beginning three (3) business days prior to the beginning of your statement cycle and ending three (3) business days prior to the end of your statement cycle.

Consumers can use compatible iPhone, iPad, and Apple Watch models to make mobile "in-app" purchases with Apple Pay and/or to make in-person Apple Pay payments using built-in NFC technology. A list of compatible devices can be found at https://support.apple.com/en-us/HT208531.

Apple Pay, Apple Pay Cash, App Store, iPhone and iPad Air are registered trademarks of Apple, Inc. Apple Watch, Touch ID, and iPad Mini are trademarks of Apple, Inc.
Google Play and Google Pay are trademarks of Google LLC.
iOS is a trademark or registered trademark of Cisco in the U.S. and other countries and is used under license.

Zelle and the Zelle related marks are wholly owned by Early Warning Services, LLC and are used herein under license.
The Click to Pay icon is a trademark owned by EMVCo, LLC
You May Also Be Interested In